Sparks come out on top in Bristol
Sarah Glenn played a starring role as Central Sparks inflicted a 22-run defeat upon Western Storm in a sun-drenched Rachael Heyhoe Flint Trophy encounter at Bristol's Seat Unique Stadium.
Chasing a target of 207 to win, Storm came up short at 184-9, their cause fatally undermined by the 22-year-old leg spinner from Derby, who took 4-23 from 10 overs. New ball bowler Grace Potts weighed in with 2-33 and seamer Elizabeth Russell took 2-48 as the top and middle order were blown away. Only tailenders Lauren Filer and Sophia Smale offered any kind of resistance, these two contributing 58 not out and 32 respectively, and staging a defiant ninth wicket stand of 73 by way of consolation.
Ami Campbell proved the mainstay of Sparks' innings, top-scoring with 50 from 75 balls, while captain Evelyn Jones and wicketkeeper Abi Freeborn grafted their way to 44 and 35 respectively in a total of 206 all out from 50 overs after the visitors had won the toss.
Impressive with the new ball and again at the death, Lauren Filer claimed 3-36 from 10 overs and was ably supported by Niamh Holland, who took key wickets during the middle overs to return figures of 2-17.
But Storm lacked the application required with the bat on a typically slow and low Bristol pitch to follow up last week's opening win over Lightning, handing their opponents the opportunity to atone for defeat at the hands of Southern Vipers in their first game.
The game was all but over as a contest when Storm lurched to 48-6 inside 14 overs, the victims of poor shot selection and some outstanding bowling. Grace Potts set the tone, having Georgia Hennessy caught at the wicket without scoring and then inducing Alex Griffiths to hole out to mid-off as the hosts forfeited both openers inside seven overs with 17 runs on the board. Wilson was next to go cheaply, bowled in the act of playing back to Elizabeth Russell and missing a straight one, at which point Storm were 31-3 in the tenth.
A difficult situation became positively parlous when batting talisman Sophie Luff and big-hitting Dani Gibson succumbed to the first and sixth balls of Glenn's opening over from the Ashley Down Road End. Caught in two minds, Luff was pinned lbw, while Gibson played across the line and was bowled. When Nat Wraith edged a catch behind off Russell in the next over, Storm were 48-6 and in dire straits.
There followed 18 dot balls, a passage of austerity that culminated in Glenn having Holland held at slip. George was then bowled by Glenn, terminating any fanciful notion Storm supporters might have harboured of an against-the-odds triumph.
Understanding the risks associated with pushing too hard on a worn surface, Sparks' top-order batters had earlier demonstrated a willingness to graft for their runs, a quality that set them apart from their opponents.
Filer served early notice that this was far from a batting paradise, mustering impressive rhythm and pace from the Bristol Pavilion End to remove Davina Perrin and Thea Brookes while the fielding restrictions were still in place.
Campbell rode her luck against Storm's main strike bowler, cutting hard to backward point and being put down by Wilson before she had scored. She certainly made good her escape, the left hander surviving a sticky start to match Jones blow for blow in a stand of 64 for the third wicket as the visitors reasserted themselves.
Prepared to wait for the bad ball, these two were severe on anything short or wide, advancing the score to 109-2 at the halfway stage of the innings. Just when a half century appeared to be hers for the asking, Jones blotted her copybook, playing across the line to a straight delivery from off spinner Chloe Skelton and departing bowled for 44. Skelton's clever variations on pace and flight almost produced another wicket, but she was unable to hold onto a hard return catch offered up by the fortuitous Campbell, who went on to raise 50 from 74 balls, with 8 fours.
Dropped catches looked likely to cost Storm dear when George fumbled at deep square leg to allow Freeborn a life on three, much to the chagrin of the returning Filer. Yet partial salvation was at hand for the home side in the form of Holland, who claimed two wickets in the space of 13 deliveries after being introduced in the 34th over. Campbell clipped a swinging ball to Skelton at short fine leg, while Glenn was bowled for two as Sparks were reduced to 156-5. Ria Fackrell contributed 16 in a partnership of 32 in seven overs with Freeborn before being bowled by Gibson as Storm turned the screw.
As Sparks attempted to accelerate, so Filer struck to remove Freeborn, caught at the wicket by Wraith having hewn 35 from 58 balls. Gibson ran out Georgia Davis and then bowled Potts, while Wraith ran out Hannah Baker off the final ball of the innings.
Campbell's demise in the 35th over proved a turning point, Sparks adding a mere 63 runs for the loss of six wickets in their final 15 overs thereafter. Yet once Glenn went to work, it proved more than enough.
THE MATCH
Western Storm take on Central Sparks in the Rachael Heyhoe-Flint Trophy at the Seat Unique Stadium, Bristol today (Saturday July 9th).
This 50 over match will get underway at 10:30am.
Tickets for this match are available now.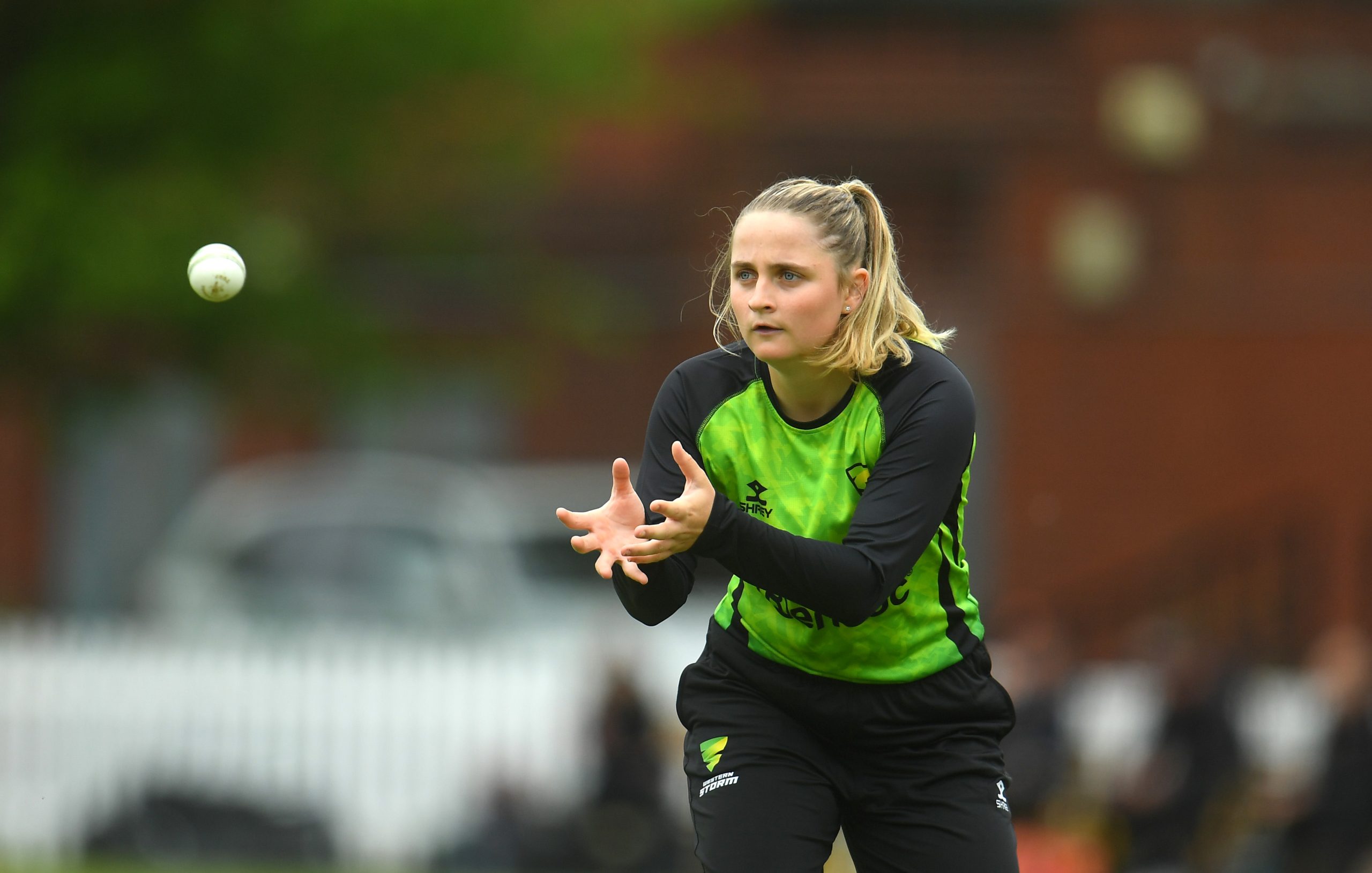 HOW CAN I KEEP UP TO DATE?
This match will be live streamed and you can keep up to date via the Western Storm website.
In addition to this, a report on the day's play along with quotes will be posted on this website.
HEAD TO HEAD
The two sides met in the competition at Edgbaston last year with Central Sparks coming out on top by 41 runs.
Western Storm won the toss and elected to field.
Two early wickets for Lauren Filer helped to reduce the hosts to 41 for three. However, Amy Jones made a superb 163 from just 114 balls as Sparks posted a total of 295 for seven from their 50 overs.
Lauren Parfitt (91) and Heather Knight (59) shared an opening stand of 102 but the visitors could only reach 254 for nine.

TEAM NEWS
A starting XI will be named from the following players: Sophie Luff (c), Fran Wilson, Fi Morris, Katie George, Georgia Hennessy, Claire Nicholas, Danielle Gibson, Nat Wraith, Alex Griffiths, Nicole Harvey, Lauren Parfitt, Lauren Filer, Mollie Robbins, Sophia Smale, Niamh Holland and Bethan Gammon.
VIEW FROM THE DRESSING ROOM
Ahead of the fixture, Western Storm Head Coach, Trevor Griffin said: "It was a good start to the campaign last week and I'm really pleased for the team. They worked really hard in the build up to the competition with Dan Helesfay before I rejoined.
"They took on board everything we spoke about the night before and went out there and played their own game. They know that we will back them because that's what they've been picked for. We saw some great examples of that last Saturday and I'm looking forward to seeing more of that this weekend.
"We've had great support in the West Country from day one and it's grown year on year. We're really looking forward to getting out there in front of our own supporters at Bristol on Saturday.
"Sparks are a well drilled side with some top quality players. It's always a good game against them and we're looking forward to it."
EVERYTHING YOU NEED TO KNOW
If you are attending the match please visit the Gloucestershire CCC website for further matchday information.
NEXT MATCH
Western Storm's next match is on Saturday July 16th when we take on Sunrisers at the Cloud County Ground, Chelmsford.
Back to News